---
*******************************************
The Newsletter on the Under-Fives
Issue 166: March 2019
https://www.under-fives.org/
*******************************************
Welcome to the Under-Fives newsletter - I hope you find it useful.
You can download this newsletter as a pdf file.
Bloom Multisensory Baby Sensory Classes


A gentle multi sensory, baby development and massage class for younger babies, plus a highly interactive musical class for 6 months to mobile.
Contents
---
Classes throughout Derbyshire and Staffordshire include arts, crafts, messy play, baby signing, languages, cooking, dance, drama, sports, underwater swimming, music, nature...
https://www.under-fives.org/activity.html

What questions to ask when you visit a potential preschool for your child.
https://www.under-fives.org/preschool.html

---
E-mail your event to jill@under-fives.org and I'll be pleased to publish it here.
Animal Trail
This is the year of the Pig. Help Ozzy find 12 animals from the Chinese Zodiac. 1-30 April. Potteries Museum and Art Gallery, Hanley.
http://www.stokemuseums.org.uk/pmag/
Easter Egg Hunt
Sat 20th April in Mayfield - Easter Egg Hunt and Easter craft activities.
https://marna.org.uk/easter-egg-hunt/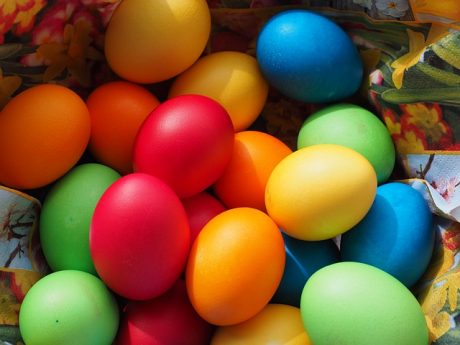 Easter Trail
Solve the clues and hunt down the Easter tiles hiding around the Gladstone Pottery museum. Free gift and entry into a prize draw for everyone who takes part.
http://www.stokemuseums.org.uk/gpm/
Mad Hatters Tea Party at Churnet Valley Railway
Tumble down the rabbit hole and discover the Mad Hatter's Tea Party at the Churnet Valley Railway this Easter. Various dates in April.
https://trainteaparty.co.uk/
Easter Egg Hunt
Canalside Farm, Stafford. The Easter bunny has hidden eggs with clues to help you find them! Each egg has a letter on it spelling out a very special word. Collect your clue sheet from the shop and once you have found all the eggs and figured out the special word, take your answer back to the shop to receive your chocolate Easter egg.
https://www.canalsidefarm.co.uk/
Through the Eyes of a Child Exhibition
An exciting and interactive new touring exhibition looking at children past and present from work and play to school and times of need. Leek until 27 April.
https://www.facebook.com/NicholsonMuseum/
Penkridge Children's Market
A family day out with lots of entertainment on offer for the children from bottle feeding lambs to fun fair rides and a wide range of stalls selling everything from personalised keepsakes to nearly new toys, clothes and equipment. Wednesdays and Saturdays in April.
http://www.penkridgemarket.co.uk/
---
Round up of some of the more interesting news about mothers-to-be, childcare, babies, toddlers and young children.
Better to read to toddlers from books than tablets
When grown-ups are reading to toddlers, they have more meaningful conversations when the stories are in traditional printed books than when stories are in e-books, researchers found. Tablets may not be as good for kids' development.
https://uk.reuters.com/
Good mothers are literally on the same wavelength as their children
Mothers engaged with their babies may find that their brain waves get in sync too, experts say. And it may be helping the child learn faster.
https://www.dailymail.co.uk/
Quick pregnancy safe after stillbirth, study finds
There is no reason to delay having another baby after a stillbirth, research in the Lancet suggests. Although women are often told to wait for a year before getting pregnant again, there is little evidence to back up this advice.
https://www.bbc.co.uk/
Parents' sleep doesn't recover for years after having a baby
A recent study found sleep satisfaction and duration sharply declined with childbirth, reaching the lowest point during the first three months after having a baby. And even six years later, parents' sleep still hadn't fully recovered.
https://www.cbsnews.com/
Infant and prenatal exposure to pesticides linked to autism risk
The risk of a child developing autism may increase if they are exposed to pesticides while in the womb, or during the first year of their life, a new study has suggested.
https://www.irishtimes.com/
Smoking during pregnancy doubles the risk of sudden unexpected infant death
Any amount of smoking during pregnancy - even just one cigarette a day - doubles the risk of an infant dying from sudden unexpected infant death
https://www.eurekalert.org/
---
Copyright jillstudholme.com, 2019
You are welcome to copy or forward any part of this newsletter, but please include this copyright notice and web address - https://www.under-fives.org/
Previous editions of this newsletter are archived at https://www.under-fives.org/news.html
An index to articles published in previous issues is at https://www.under-fives.org/article.html
To remove yourself from the mailing list go to https://www.under-fives.org/news.html
---
Subscribe
Get your free copy every month: enter your e-mail below.
We will not disclose your e-mail address to anyone else nor send you junk mail.
---