---
*******************************************
The Newsletter on the Under-Fives
Issue 171: October/November 2019
https://www.under-fives.org/
*******************************************
Welcome to the Under-Fives newsletter. It's nearly half term so there are lots of Halloween events coming up - read more below.
You can download this newsletter as pdf file here.
Contents
---
What's New at the Under-Fives Web Site?
These are our selection of the ten best children's books for the under-fives. Have you any suggestions of favourite books for us to check out? We'd love to know which are your children's favourites.
https://www.under-fives.org/books.html
From climbing wall sessions for toddlers, to play centers and wildlife parks, find somewhere to go with your children this half-term.
https://www.under-fives.org/attraction.html
---
Events for the Under-Fives
E-mail your event to jill@under-fives.org and I'll be pleased to publish it here.
Wirksworth Wizarding Day
Expect magic and wonder, snakes and owls, broomsticks and train rides, and thousands of witches and wizards in their best robes. Saturday 26 October 2019.
https://wirksworthwizardingday.wordpress.com/
Big Fish Little Fish
Multi-award winning family fun for the post-rave generation of parents. Helping parents be responsibly irresponsible since 2013. This event takes place at Derby's Revolution bringing you rave classics. 3rd November 14.00-16.30 Revolution Derby, 1 the Strand DE1 1BJ. Child under 12 £6.50, Pre walkers free.
http://www.bigfishlittlefishevents.co.uk/
Half Term Pottery painting
Fun for the whole family at World of Wedgewood with spooky pottery painting and creating Christmas baubles. Free Museum entry for everyone and free Factory Tours for under 12s Monday - Friday. Saturday 26 October - Sunday 3 November 2019
https://www.worldofwedgwood.com/
Half Term Spooktacular at Trentham Monkey Forest
Face painting, mask making, games, stories, fancy dress and colouring competitions. 26-31 October.
https://monkey-forest.com/
Halloween Half Term Trail
At Tittesworth Water, Leek, Staffordshire. From 26 to 31 November, 10 to 3.30 pm.
https://www.facebook.com/
Little School of Sorcery at Haddon Hall
Enjoy a plethora of ghastly games and activities throughout the hall, from creating potions in the kitchen with medieval herbs collected from Haddon's gardens, to wand decorating, broom and hat making, learning spells and scroll writing. Dressing up is warmly welcomed. October 26-31.
https://www.facebook.com/
Halloween SPOOKtacular
Visit Peak Wildlife Park for a hair-raising half-term, with 20% off children's tickets and plenty of frightful fun including terrifying talks, haunted trails, ghoulish games and Mad Mark's Insect Emporium!
https://www.peakwildlifepark.co.uk/
Spooky Bolsover Castle
Grab your broomsticks for a bewitchingly brilliant day out at Bolsover Castle this Halloween half term. Get hands-on with creepy crafts and a wicked witch-themed quest. 26 Oct - Sun 3 Nov, 11 am to 4 pm.
ttps://www.english-heritage.org.uk/
Half Term Spooky Fun Day
Join Gladstone Pottery Museum for Halloween themed facepainting, balloon modelling and magic shows, included with normal museum admission, 11am - 3pm 31st October.
http://www.stokemuseums.org.uk/
Mayfield Village Children's Christmas Party
Children's Christmas Party for Mayfield, Rocester and Stanton under-elevens, in Mayfield Memorial Hall from 10 to 12.30 pm on 21st December. Party lunch, presents from Santa and an entertainer. Free for the under-threes and just £3 for older children. Tickets are limited so pre-order yours now at https://marna.org.uk/event/childrens-christmas-party/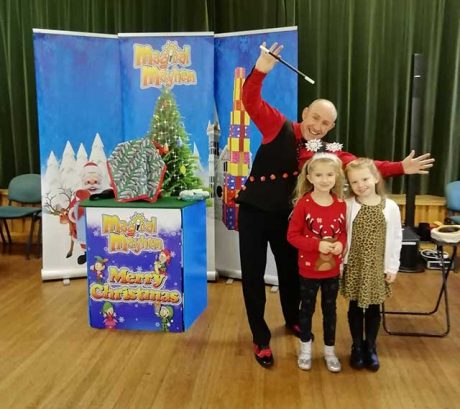 ---
Pregnancy and Under-Fives News
Round up of news about mothers-to-be, childcare, babies, toddlers and young children.
Conflict of interest and the infant formula industry, says British Medical Journal
Breastfeeding is one of the most cost-effective interventions for improving the health and survival of children, with important short and long-term benefits to families and society. However, policies and interventions to support breastfeeding are undermined by powerful multi-national formula milk manufacturers who compete for a share of infant feeding.
https://blogs.bmj.com/
Fisher-Price Rock 'n Play design led to deaths of babies
Inclined sleepers for infants have been controversial since Fisher-Price invented them more than a decade ago. A new study confirms the design is dangerous and deadly.
https://www.cbsnews.com/
Unprecedented rise in infant mortality in England linked to poverty
Rising infant mortality is unusual in high income countries. New study showed the rise in infant deaths disproportionately affected the poorest areas of the country, leaving the more affluent areas unaffected.
https://www.leeds.ac.uk/
Drinking by prospective fathers tied to infant heart defects
Fathers who drink alcohol in the months just before their child is conceived are more likely to have a baby with heart defects than those who abstain prior to conception, a recent study claims. The results suggest that men should stop drinking alcohol at least six months before trying to conceive, and that women should stop at least one year before trying to have a baby
https://www.reuters.com/
Babies exposed to air pollution have greater risk of death
Infant mortality rate is higher in babies exposed to pollutants such as sulphur dioxide
https://www.theguardian.com/
Poor Health in Pregnancy Tied to Infant Sleep Problems
Some infant sleep problems may have more to do with the mother's well-being during pregnancy than with parenting style
https://psychcentral.com/
Smart speaker system uses white noise to sooth babies
Device uses white noise to both soothe sleeping infants and monitor their breathing and movement.
https://www.washington.edu/
---
Copyright jillstudholme.com, 2019
You are welcome to copy or forward any part of this newsletter, but please include this copyright notice and web address - https://www.under-fives.org/
Previous editions of this newsletter are archived at https://www.under-fives.org/news.html
An index to articles published in previous issues is at https://www.under-fives.org/article.html
To remove yourself from the mailing list go to https://www.under-fives.org/news.html
---
Subscribe
Get your free copy every month: enter your e-mail below.
We will not disclose your e-mail address to anyone else nor send you junk mail.
---
---